Andriy Brodskyy is the founder and CEO of TitanEra. He has over 15 years of experience in the global titanium industry, having initiated the successful greenfield project, the construction of the first titanium MPP in independent Ukraine.
Under his leadership, the company occupied 2% of the global titanium feedstock market, supplying its products to customers in North America, Europe, and Asia. 
Andriy Brodsky set an ambitious goal – to reduce the cost of titanium and create a green production method. He opened the Velta RD Titan research center, which has successfully developed and patented a new production method for affordable eco- friendly titanium and its alloys.
Remaining CEO of Velta, he also headed the newly established Titanera Holding, which is building a pilot plant for the production of titanium powder and final goods in Ukraine.
He graduated from Dnipropetrovsk National Mining University majoring in Beneficiation of Mineral Resources.
Ms. Lesnyak has over 16 years of experience in sales and marketing of Ukrainian and international companies, 10 of which are in titanium industry. As deputy CEO, she is responsible for sales, marketing, and strategic development.
She holds a Masters in Economics of Enterprise from Dnipropetrovsk State University and a degree in English.
She completed an intensive business course in Management, Marketing and Finance at the French-Ukrainian Institute of Business and another training course in psychology at Lumiere University in Lyon. She is a fluent English and French speaker.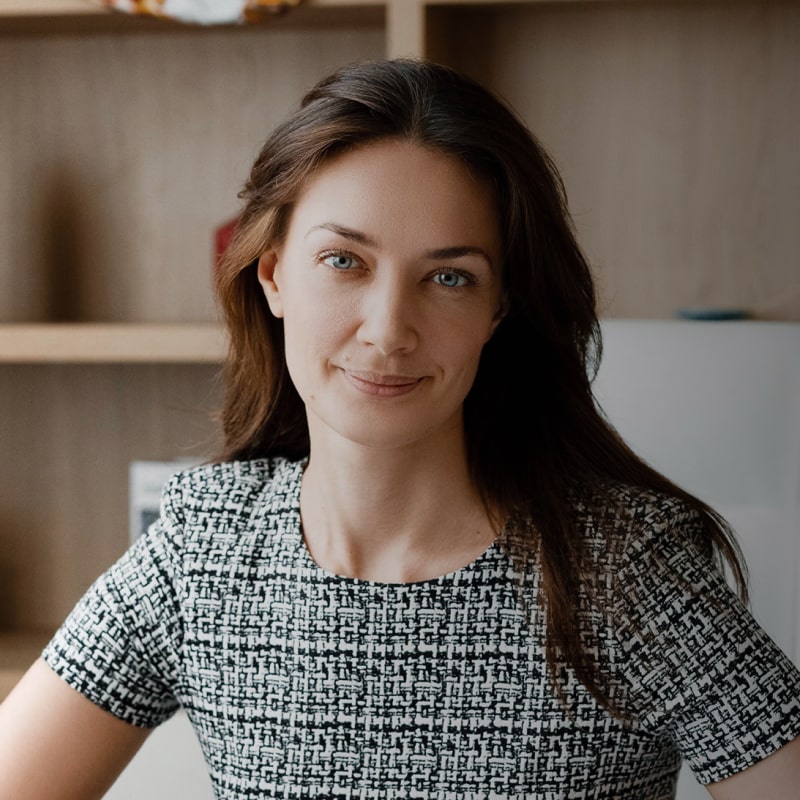 CHIEF STRATEGY AND INVESTMENT OFFICER
Anatoliy Amelin has many years of experience in strategic and crisis management, investment banking and investment management.
He is a co-founder and director of one of the country's most influential think tanks, the Ukrainian Institute For the Future, as well as the Economic Recovery Center. He took part in the reorganization of the National Securities and Stock Market Commission. He was a member of the Board of Directors at a number of manufacturing and financial companies.
Anatoliy Amelin has successfully managed businesses created from scratch as well as assets worth more than $200B. He participated in the development of the National Economic Strategy of Ukraine 2030. He led a group that for the first time in Ukraine developed and presented to the government the Strategy For the Titanium Industry Development in Ukraine 2030.
He has an international doctorate degree in international economics (DBA). Graduated from the International Institute for Securities Market Development in Washington, DC, and the Leuven School of Business and Economics in Belgium.
CHIEF INNOVATIONS OFFICER
Vladimir Yarovinsky had been the founder and CEO of international trading companies, operating in metal pipes and own production of ferrous and nonferrous metals sector for over 20 years.

He has actively conducted research, funded and co-authored several national patents in the field of blasting for the mining sector, the development of liquid crystal stops for the metallurgical sector and a new type of high-speed data transmission.
Graduated from the Dnipropetrovsk Metallurgical Academy with a degree in Automated Machinery.
Volodymyr Golovatenko has over 20 years of experience in the field of public administration. He is a senior policy adviser to the Preparation of a New Subsoil Code, the EU project. He served as Deputy Minister of Energy and Environment Protection, formulated policy in the field of subsoil use and bioresources, etc.
Volodymyr Golovatenko participated in the development of regulations adopted by the Ukrainian authorities, such as the bill "On Amendments to the Law on Economic Activities Licensing", the bill "Issues of Utilization of Geological Information", as well as a number of white papers, including access to limited public resources.
As a director of a mining company, he gained experience in preparing mineral deposits for development.

He has a degree in political science from Taras Shevchenko National University of Kyiv.

Nadezhda Matviyenko has 12 years of experience in developing and implementing HR-strategies of large industrial and trading holdings, such as PJSC MHP and Metinvest.
In addition to her main duties and responsibilities for the entire HR-cycle in the overseen business directions, she participated in dozens of projects, including the establishment of a corporate HR-school, investments in the creation of company's own Polytechnic College as a part of an R&D strategy, transformation of the award ceremony, due-diligence, etc.
Her responsibilities include HR administration, recruitment and adaptation, HR-analytics and organizational development.
She graduated from Moscow State University with a degree in Psychology and finished INSEAD Business School in France. She also has an SHRM-SCP (USA), an international certificate in the field of HR.
SALES AND MARKETING DIRECTOR
Artem Yarovinskyy has 7 years of international experience in the titanium industry. He began his career in international trading companies and took part in the implementation of the cutting-edge scientific and technical solutions at a titanium production facility.
His research efforts include a number of publications in international and domestic specialized periodicals on increasing the competitiveness of enterprises, strengthening the company's market position in global markets, and more.

He is responsible for TitanEra's marketing strategy and client relationships.
He graduated from the National Mining University with a degree in International Trade Management.